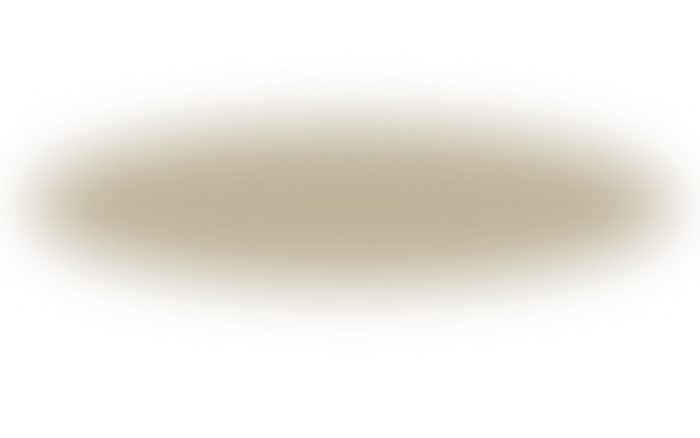 Indian Ridge Lodge

Welcome to our family!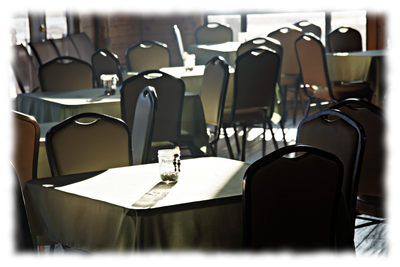 Book the entire facility including the Great Room, Game Room, Library, and all five bedrooms for $800.00 per night (which includes full breakfast for up to 16 persons). Or, rent a single bedroom for as little as $85.00 per night. You can also reserve just the Great Room for a wedding, meeting, or other one-day event.
Great Room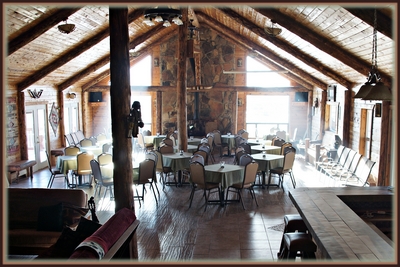 At 2,000 square feet, the Great Room is beautiful, rustic, and homey. It's the perfect setting for any occasion. Rent it all day for your special event or just two hours for a business meeting. If you're planning a meal, consider having us cater or bring your own grub.
Time slots
9:00 a.m.- Noon
1:00 p.m.- 4:00 p.m.
5:00 p.m.- 8:00 p.m.
Pricing
Any one time slot
$200.00
Two consecutive time slots
$400.00
9:00 a.m. through 8:00 p.m.
$500.00
Amenities Available:
(Some amenities require advance notice.)
Two wood stoves
Piano
Attached deck with lawn chairs and
BBQs
Tables and seating for 60
Full china service*
Breakfast bar with sinks
Gas range
Drink cooler
Ice machine
Popcorn machine
Lounge area with three fold-
down futon couches
PA system with four 800-watt
speakers and microphone
Slide/movie projector with pull-down screen
Air conditioning
Tablecloths*
Centerpieces*
Wi-Fi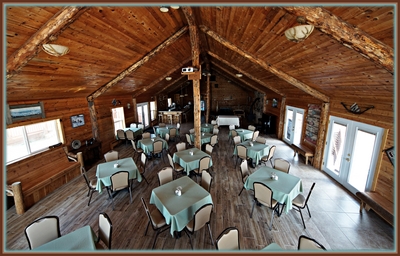 *Extra charge applies for items marked with an asterisk.
Game Room
The Game Room is located directly beneath the Great Room and takes up about half of the footprint. The mood is set by two pleasant sitting areas with their own fireplaces. There are three classy futons that can function as overflow sleeping quarters if the entire facility is rented, and a small refreshment center is included for your convenience.
The Game Room is furnished with a high-quality pool table, a ping-pong table, a foosball table, and is finished off with an LGB G-scale train track encircling the room.
Below is a silent video tour of the Game Room. Click here to view in Youtube with audio.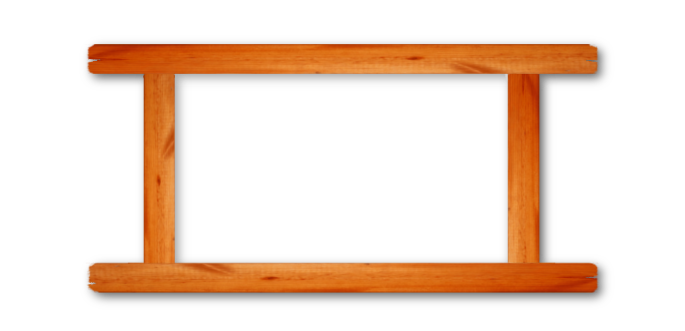 Library
The Library is a cozy little room with a choice collection of exceptional books. With its own mini-refreshment center, gas heating stove, two futons (which fold-down for overflow sleeping), and its own personal forest, this is an inviting room to cuddle up for some quiet time.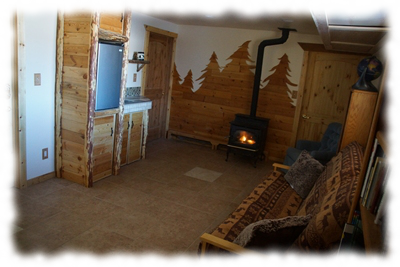 A small window on the east side permits sufficient light to warm the room with a pleasant glow, and looks out towards the beautiful Manti-La Sal Mountain Range.
Bear Room
| | |
| --- | --- |
| Sleeps | 5-7 |
| Breakfast | Included* |
| Bathroom | Yes |
| Pricing | $105.00/night** |
| Adjoins | Game Room |
| Other Notes | See Bear Cub Cave |
*Stay includes two free breakfasts
**See policies & amenities below
Just like all of our rooms, the Bear Room has one queen bed with a bunk over it, but this is sure to be a favorite among kids, as it has one uniquely distinctive feature...
The Bear Cub Cave!
Your kids will love the Bear Cub
Cave! The lower level has benches
on two sides, and a small bunk
against the wall, while the upper
level is a loft-like pad about five
feet square with a good railing
across the front (except at the
ladder).
Cabin Room
| | |
| --- | --- |
| Sleeps | Up to 8 |
| Breakfast | Included* |
| Bathroom | Yes |
| Pricing | $125.00/night** |
| Adjoins | Game Room |
The largest of our bedrooms, the Cabin Room has a queen bed, four single-sized bunks, and a futon that can be used as a private couch, or folds into a double bed. In consideration of the comfortable sleeping capacity of eight, the Cabin Room has separate shower and toilet/wash rooms.
*Stay includes two free breakfasts
**See policies & amenities below
Fishing Room
| | |
| --- | --- |
| Sleeps | 5-6+ |
| Breakfast | Included* |
| Bathroom | Yes |
| Pricing | $105.00/night** |
| Adjoins | Game Room |
A beautiful room with one queen bed; a rustic, hand-carved fish railing encircling a large wrap-around bunk; and a single bunk, the Fishing Room provides comfortable sleeping quarters for two adults and four to five children.
*Stay includes two free breakfasts
**See policies & amenities below
Moose Room
Sleeps
Up to 3
Breakfast
Included*
Bathroom
Yes
Pricing
$85.00/night**
Close access to staircase
If your party consists of up to two adults and one child, the Moose Room is a great place to land in style! Consistent with all Indian Ridge Lodge signature room layouts, this room has one queen bed with a bunk that projects over it. There is a small bench across from the bed, a small closet, and
a unique little bathroom.
*Stay includes two free breakfasts
**See policies & amenities below
Tepee Room
| | |
| --- | --- |
| Sleeps | Up to 3 |
| Breakfast | Included* |
| Bathroom | Yes |
| Pricing | $85.00/night** |
| Adjoins | Library |
| Other Notes | Bathtub |
You will find the Tepee Room to be adequately suited for up to two adults and one child, and is the only room with a bathtub. It has the standard Indian Ridge Lodge Signature bunk-over-the-bed arrangement and directly accesses the Library. For unit reservations, the futons in the Library can be folded down into double beds to
accommodate an additional four guests.
*Stay includes two free breakfasts
**See policies & amenities below
Policies
These are the policies by which you must agree to abide.
No animals are allowed inside the building.
NO SMOKING, CANDLES, OR OPEN FLAMES
Consumption of food and drinks is permitted in the Dining Room, but please keep all food and drinks out of bedrooms. If you do bring your own beverages or food, please consume them in a sanctioned sector of the building. Compliance will assist in avoiding unnecessary cleaning fees.
Please supervise your children! We want all of our guests to enjoy themselves, and certainly don't want to evict anyone for unseemly behavior.
Guests are asked to provide prompt notice to staff of any accidents resulting in fabric stains, glass breakage, or other damage to help minimize any cleaning, replacement, or related charges. When necessary, charges will be collected for cleaning or repair beyond what would ordinarily be incurred during normal and regular use of facility, and for replacing missing/broken items.
B&B Amenities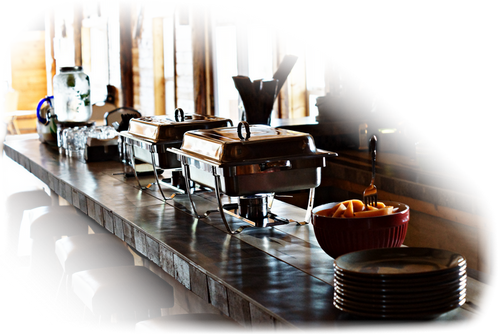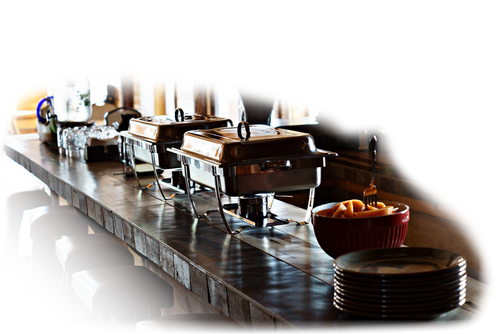 All bedrooms:
Contain private bathroom
Include full breakfast for two
Have Minimum of one queen bed with reading lights in a bunk over it
Are stocked with notepad, pens, lantern, garbage bags, hangers, towels, washcloths, handtowels, soap, shampoo, conditioner, body wash, lotion, shower cap (additional toiletries available for purchase)
Room rates include accommodations for two. You may bring your own sleeping bags for children or sleeping bags can be rented for $10.00 each (this washing fee covers sleeping bag rental for entire stay, regardless of length).
We may have a limited supply of power for your basic needs by night, but by day, providing the sun (or wind) has topped off the battery, you will likely be able to run any of your electronic appliances/devices that you want.
Note: If there are any specific items that are not mentioned on this page that your stay will require, feel free to contact us. A classic example of this is that many hotel rooms have irons and/or blow dryers, neither of which are included in our rooms, but may be borrowed from us while one or more of our renewable energy sources is generating power. Other examples are extra linens, blankets, and sleeping bags, which may be available for rent.
Web Design by Two The Max Enterprises 2015 | TwoTheMaxProductions@hotmail.com